By unanimous vote, South Boston Town Council approved a resolution supporting the Halifax County School Board's endorsement to construct a new high school, but one member questioned the method.
After years of wrangling, the school board went on record in September opting to move forward with plans to build a new facility instead of renovating the current building.
"I'd like to note I am not a bit opposed to recommending a new high school, but I do oppose the method they are heading towards of spending $120 million," council member Tommy Elliot said at Monday night's meeting. "Who knows how much they're going to spend they're putting all their marbles in one basket with one architect and one construction company and getting no competitive bids, I think that is not a feasible thing to do."
Council members Joe Chandler and Robert Hughes agreed with Elliot on his stance.
"I'd hate to think with the questionable construction that has taken place recently in our history that anyone involved in monies of any amount whatsoever would never consider a single bid or single architect for a project of this magnitude, to only have one person and one organization involved is an invitation for change orders that'll bankrupt you, so I concur with you Mr. Elliot," said Hughes.
The school board would get the bid and the county would need to provide funding, according to South Boston Town Manager Tom Raab.
In July 2019, the Virginia General Assembly adopted legislation giving localities the authority to levy a 1% or less general retail sales tax to provide revenue solely for capital projects for the construction or renovation of schools in Virginia.
Such taxes have been collected in Halifax County since July 1, 2020, after 71% of Halifax county residents voted to approve a referendum on the extra tax.
In the resolution, South Boston Town Council expresses its full support of the Halifax County School Bard's action and urges Halifax County Board of Supervisors to move forward in providing necessary funding for construction for a new high school facility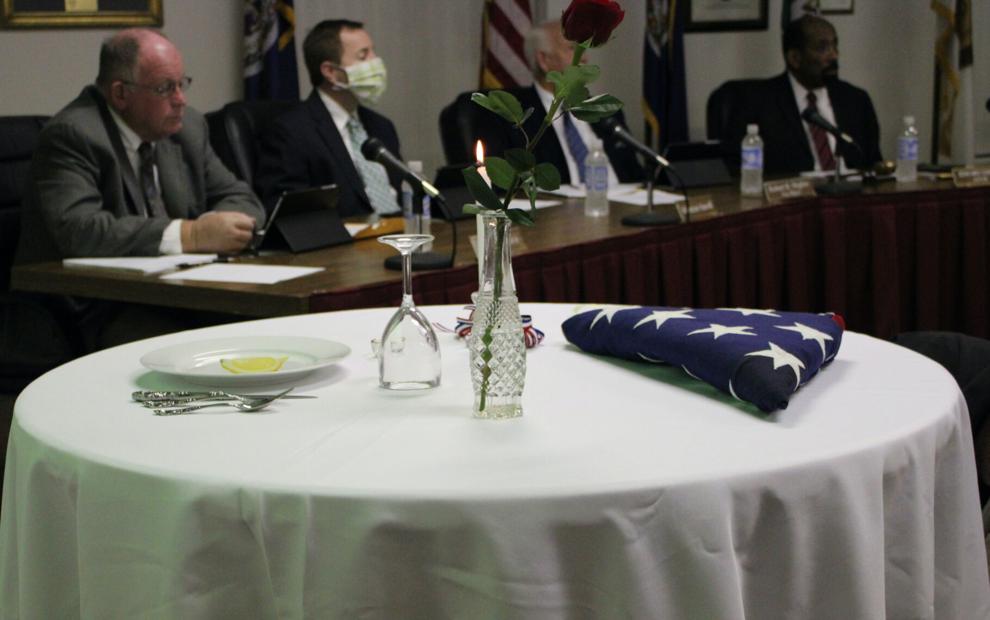 War memorial
Ted Daniel and Joyce French, representing the Virginia War Memorial, attended Monday's meeting and spoke of the Southside Virginia Walkway of Honor project.
The project is to get more Southside Virginia veterans recognized with bricks at the memorial. There are currently around 40 bricks of Halifax County veterans at the memorial but there are hopes that they will add more. Bricks are being sold at a $150 discounted price from Nov. 1 to Jan. 1.
Daniel and French also presented the town council with a special table arrangement thanking the members for their support.
"God bless our veterans past and present who have given so much sacrifice for us," said Daniel.
French gave her thanks to the council, "You guys were there early, the first local government to support us and then were followed by South Hill, thank you over and over again."
The arrangement was made of:
a round table to show everlasting concern;
white cloth symbolizing the purity of motives on answering the call;
a single red rose to represent the blood that was shed, the lives lost in service and the friends and family who keep faith;
a yellow ribbon worn by those remembered;
a slice of lemon to remind of the bitterness of loss;
a portion of salt to remind of the tears shed;
a lightened candle to reflect on ongoing hope; and
an inverted glass that no longer can share a toast for companions who are no longer present.
After the presentation made by Daniel and French council member Elliot said "We need to be the ones to thank you for your efforts," as everyone in the room rose to their feet to applaud Daniel and French for their work.
Other items
On behalf of Go. Ralph Northam, South Boston was granted $1 million to support the North Main Street housing rehabilitation project. There were six pre-contract documents requiring South Boston Town Council to approve including resolution, rehab program design, program income plan, housing rehabilitation program board and by-laws, proposed programmatic agreement and project area map. All have been pre-qualified based on those houses being rented or someone currently living in those houses.
The South Boston Planning Commission has terms of four members set to expire on Dec. 31 and appointments are due in December or January at the latest. Chairman George Leonard is set to serve again, Vice Chairman Fields Thomas believes it is time for him to step down, Harriet Claiborne will service another term and Beverly Crowder also will serve another. There have been five volunteer applications submitted so far, but there are expected to be more considering an application has been posted on the town of South Boston's news website.
Former Halifax County Service Authority board member Kelly Phillips has stepped down from her position leaving the service authority to fill the vacancy upon approval of the South Boston Town Council. The Halifax County Service Authority Board of Directors approved candidate Phillip Daniel Lloyd who resides in South Boston and would be set to finish the 2018-22 term. The South Boston Town Council approved Lloyd to take over the role.
Council Member Sharon Harris has been named as the new president of the Virginia Association of Education Opportunity Program Personnel.