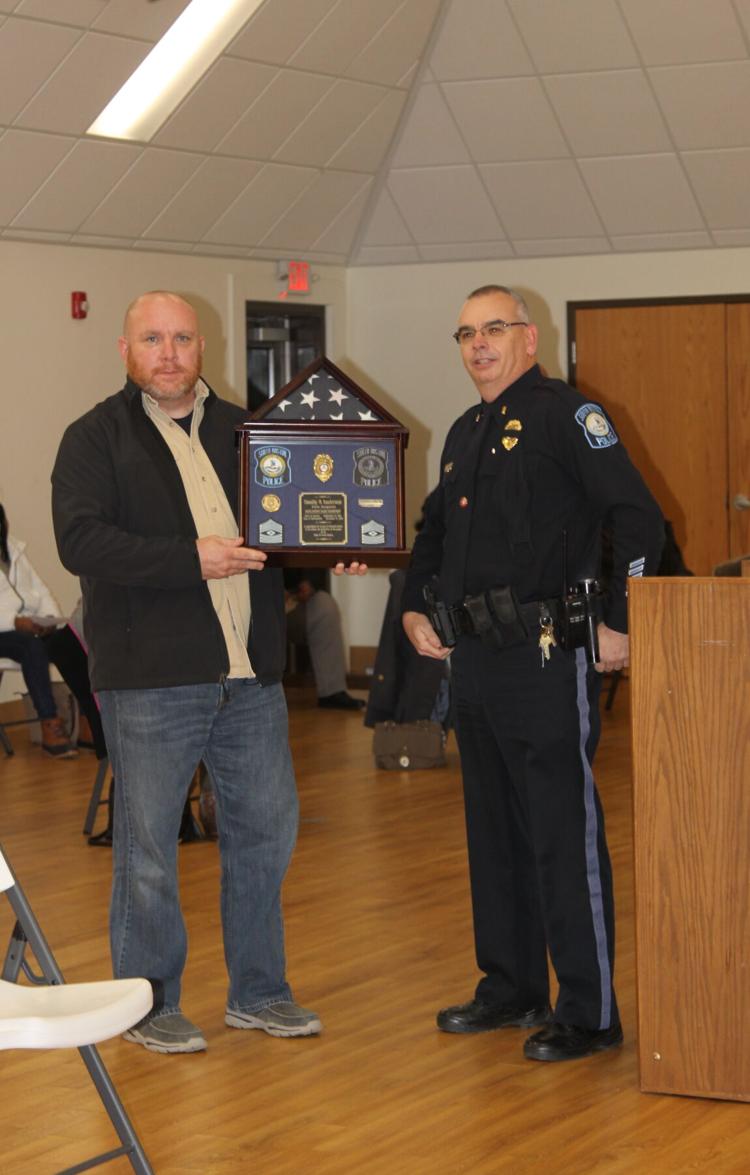 South Boston Town Council honored retired police chief Jim Binner and retired police Sgt. Tim VanAernem with a pair of resolutions at its Monday evening meeting.
Chief Binner retired from the South Boston Police Department on Jan. 1 after 27 years of service. He has been the town's police chief since 2007.
Town manager Tom Raab read the resolution in Binner's honor prior to council's unanimous adoption of the resolution.
"Whereas, during his tenure, Chief Binner spearheaded numerous improvements to the department, including expanded community policing and increased training opportunities, as well as fostering strong working relationships with county, state and federal law enforcement agencies," Raab read.
The resolution goes on to state that Binner has "earned the respect of those he served with and those he has entrusted to serve and protect."
Raab presented Binner with a plaque in honor of his service to the town, and the police department presented him with a shadow box as a memorial of his career in law enforcement.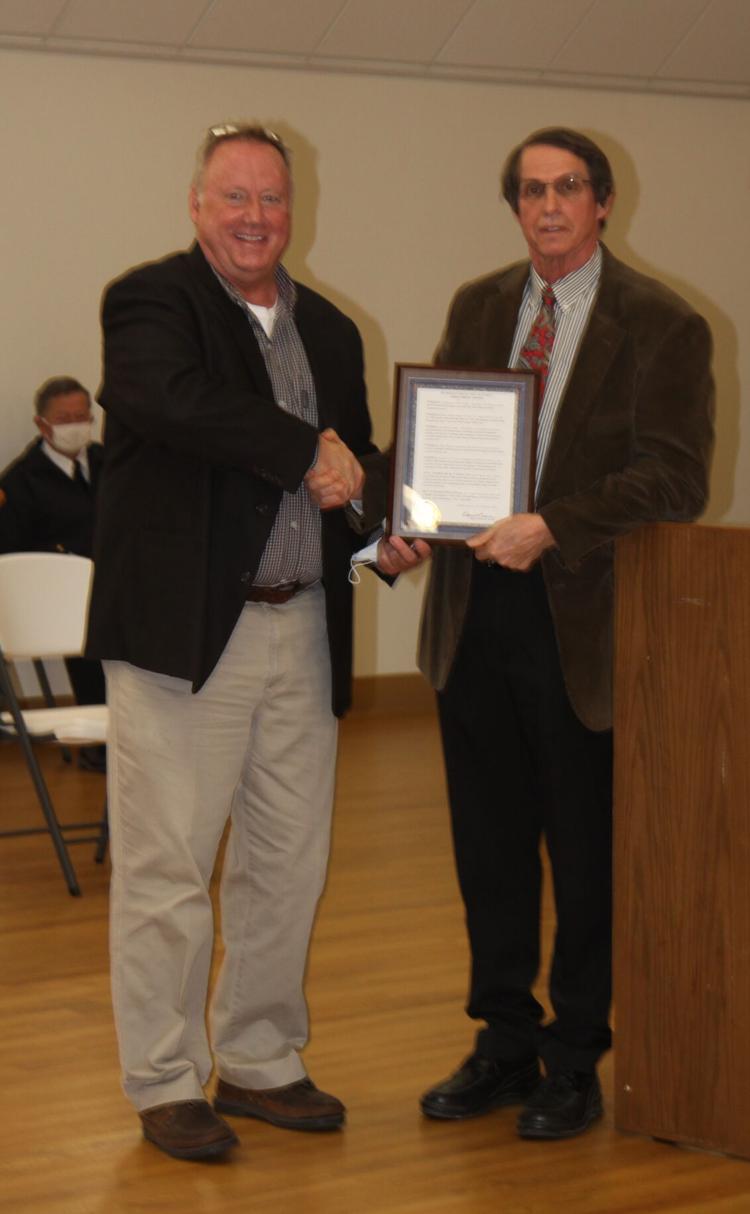 "Thank you for what you've done. Twenty-seven years in uniform is a long time," said Mayor Ed Owens. "We appreciate you protecting the citizens in our community."
Councilman Bob Snead also commended Binner for his leadership in the town's police department.
"You've been a great leader for us…There are some things you can't train in a police officer, and I think that's honesty and integrity," Snead said. "You really have a heart for people."
After Binner's recognition, town council unanimously adopted a resolution in honor of 1st Sgt. VanAernem, who retired on Jan. 2 after 22 years of service to the South Boston Police Department.
Raab read from the resolution saying,"Whereas, Tim's dedication and commitment to the South Boston Police Department, along with his communication and leadership skills made him an invaluable officer, supervisor, mentor and friend."
The resolution also states that VanAernem, a native New Yorker, quickly developed a love for the people of the town of South Boston, in particular his fellow law enforcement officers, and that he worked on various community programs.
"Congratulations. Thank you for all you've done," Mayor Owens told VanAernem. "I've seen you in the community; I've seen you working. We've all seen how you relate to children and to older people…You were built to be a policeman."
Raab presented VanAernem a plaque in honor of his service to the town and the police department presented him a shadow box to memorialize his career in law enforcement.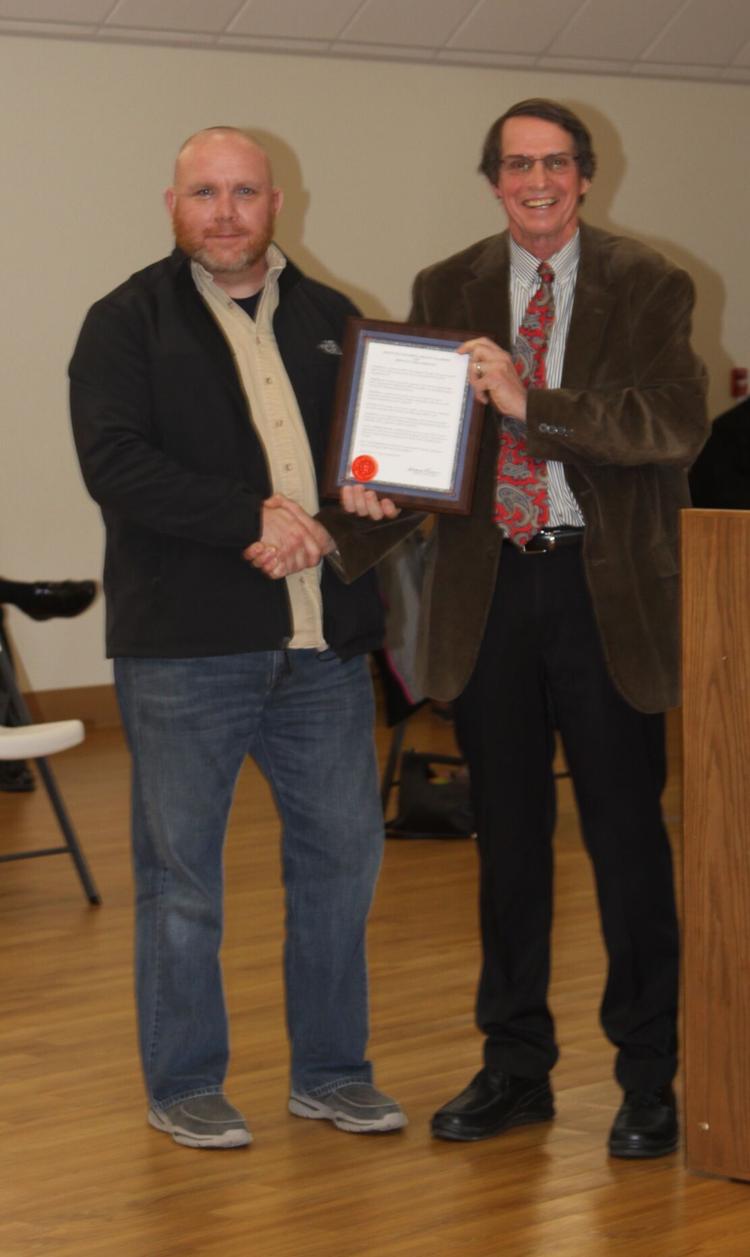 The town manager also announced the selection of a member of the police department, Capt. Dennis Barker, as the new assistant town manager at Monday's meeting.
Barker will assume his new role on Feb. 1.
"I'm real pleased with Dennis coming and working with the staff downtown," Raab said. "He is very talented, and I look forward to working with him."
Barker has certifications and expertise in the field of information technology. He shared with council that he is working on a new website for the town.
"I applaud you on the beginning stages of our new website, and hopefully it will be attractive to different businesses and other people who are looking to relocate to southern Virginia, " Councilwoman Sharon Harris said to Barker.
In addition to his expertise in the IT field, Raab said he believes Barker's familiarity with the town of South Boston will be a plus in his role as assistant town manager.
"He knows every street and alleyway in this town. He's not a stranger, and I think that's a real positive," Raab commented.