Former Halifax County High School star-studded lefty and current Keydet for the Virginia Military Institute Jaxon Lloyd picked up his first collegiate win on the season versus Lafayette College striking out five batters through four innings racking up a career high in innings pitched and strikeouts on Saturday.
"It's like a dream come true. My first collegiate win is something that I have been dreaming about since I was little and it's a great feeling for it to finally happen," said Lloyd.
Through three appearances on the mound of the Keydets, Lloyd has recorded nine strikeouts – third most on the team – in 6.1 innings pitched, an ERA of 2.84 – third lowest on the team – and a WHIP of 1.26.
The only two pitchers for VMI who have recorded more strikeouts than Lloyd have pitched seven innings or more, showing how successful he has been on the mound in his appearances.
Many freshmen going into college struggle to find an ounce of playing time as coaches want their players to develop during their first year, however, that has not been the case for Lloyd as he has pitched in three of the team's seven games and has already picked up his first collegiate win in the Keydet's 4-3 start to the season.
The Keydets began their season taking on a top 25 team in the country in #23 Duke University in Durham, North Carolina and upset the Blue Devils in the first game of a three-game series winning with a final score of 10-5 on Feb. 18.
"I am extremely proud of him; we have seen the work he has put in over the years firsthand, and we are just really proud to see his work pay off. I have traveled to see him play at Duke, UVA and versus Lafayette on Saturday and seen him pitch in all of his appearances so far," said Jaxon's father Roy Keith Lloyd.
Lloyd made his first appearance of the season on Opening Day as Keydet head coach Johnathan Hadra called on the star-studded lefty to make an appearance against one of the best college baseball teams in the country.
Lloyd described his emotions on his first collegiate experience on the mound as "a lot of nerves," but said he was able to settle down after recording the first out.
"I had a lot of nerves in my first experience on the mound, but after recording the first out they went away. I had a lot of excitement with that first outing on Opening Night, it is something I have always dreamed of," said Lloyd.
The moment never seemed to be too big for Lloyd as he came in for one inning and struck out two batters and only allowed one hit in the 10-5 win.
"It is a great feeling to get my first strikeout against Duke (University), the #23 team in the nation. It is an amazing feeling. I feel like I showed I can compete at this level and play against the best teams in the country," said Lloyd.
His next appearance on the mound came at the University of Virginia in Charlottesville against the Hoos on Feb.23 in which the Keydets lost the game with a final score of 0-14, but Lloyd was called on to pitch for 1.1 innings. He recorded four outs behind two strikeouts and gave up two base hits.
"Jaxon and I are UVA fans. Growing up we would travel to watch their games. It had to be a highlight to pitch against them, and we are just extremely proud of him," said Roy Keith.
Lloyd said he set a preseason goal to get as many innings as he could and to gain the most experience he can during his freshmen season.
"I really prepared for this season by trying to buy in to everything the coach is saying and doing everything I can to develop in order to give myself the best opportunity to play," said Lloyd.
His father said he also set a goal for his son, not just as his dad, but as his baseball coach as well.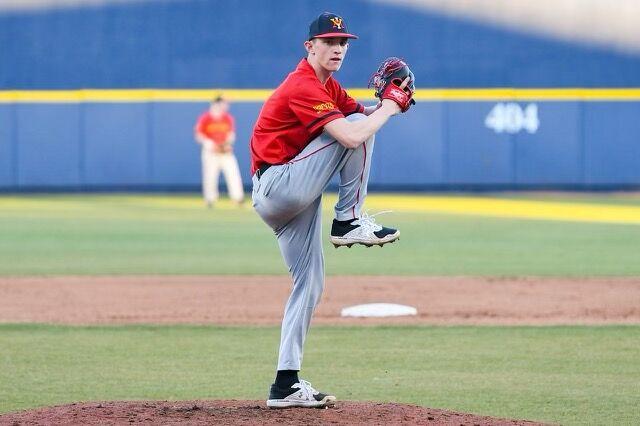 "My goal for him is to play baseball as long as he can. My hope for him is that he can choose when to quit playing," said Roy Keith.
Lloyd compared college baseball to high school baseball by saying, "The speed and competition are very different.
"The speed of the game is very different and so is the competition. You are playing more talent, everyone here is a division 1 college baseball player, whereas in high school not everyone was," said Lloyd.
Lloyd was very humble in his approach to the game and stated that he still had improvements to make as a pitcher if he wanted to reach that next level of his game.
"I need to improve my overall control on the mound. I added a slider this season, and I am working on controlling that more and getting it into the strike zone, so I am always working on ways to improve. Another thing that I would like to improve is working on my nerves, but that will come with more experience on the mound," said Lloyd.
Lloyd also acknowledged his time with the Comets and in Halifax saying, "It is an amazing thing to me to represent Halifax County.
"To show kids from a small town that you are able to compete and do good at this level even while being from a small town means everything. Jeremy Jeffress and Andrew Abbott did it, now I want to show kids that they can compete at this level as well, even if you are from a small town like Halifax," Lloyd concluded.
Roy Keith says his son's success comes from his work ethic and his love for baseball.
"Jaxon loves baseball. One of the coolest parts of being his dad is that we don't have to get him to work on his game, and he has been that way since he was a little kid. His drive and passion have always impressed me," Roy Keith concluded.
Former Danville Braves catcher and current catching and pitching coach Jeff Stevens has been working with Lloyd on his game over the years and says that Lloyd's success is attributed to his work ethic.
"He is one of the hardest workers I have ever had," said Stevens.
Going into VMI as a freshman Stevens urged Lloyd to not pay attention to the stats but to focus on what he can control on the field.
"I told him to not to get wrapped up in the stats, just perform on the field, and he has done great so far and created an opportunity for himself. Even before his first win I was proud of him for going to college for baseball. Jaxon is finally tapping into what his potential is, and I am very excited and proud of the man and player he is becoming," said Stevens. "I am prouder of the man he is becoming which goes hand in hand with his on field success. He has accomplished a lot so far, and I can't express how proud I am of him."
Stevens said he has kept in touch with Lloyd and kept up with his stats so far this season describing his performances as incredible.
"His strikeout ratio is incredible. We talk regularly and have a coach player relationship, and I am just really excited for him," said Stevens.
Along with coaching Lloyd on the mound, Stevens has also worked with Cincinnati Reds minor-leaguer Andrew Abbott saying Abbott and Lloyd have similarities.
"They definitely have some similarities for sure, they are both left handers with a similar frame and a great breaking ball resulting in strikeouts which you're seeing with Jaxon's strikeout percentage. I am excited to see Jaxon continue to improve and perform," said Stevens.
Comets baseball assistant coach Shawn Torian spoke on Lloyd's progression over the years and credits his work ethic for his success.
"He came into our program as a strong left-handed pitcher. He had good velocity and it increased with age, but his progression with his velocity really caught our eye. He has a great work ethic. He is always working on bettering himself," said Torian. "He represents the Comets the way you would want him to. He has a great work ethic and good leadership skills; I know I could trust him with my own kids, and he would even teach them some things."
Torian also acknowledged that he had been keeping up with Lloyd's stats this season with the Keydets.
"Getting his first collegiate win and his first victory under his belt is a good building block for him. There is no doubt he can play. I believe the coaches at VMI are probably seeing they have a reliable guy on the mound when he is on it," said Torian.
Torian went onto to say that he keeps in touch with his guys, and they are all family – speaking of players on the Comets baseball team.
"As a former coach I couldn't be prouder for him. I sent him a message before the season saying 'go out, do your thing and you're in charge' the same things I used to tell him in high school. I keep in touch with our guys, look up their stats to see how they're playing, they're family," Torian concluded.