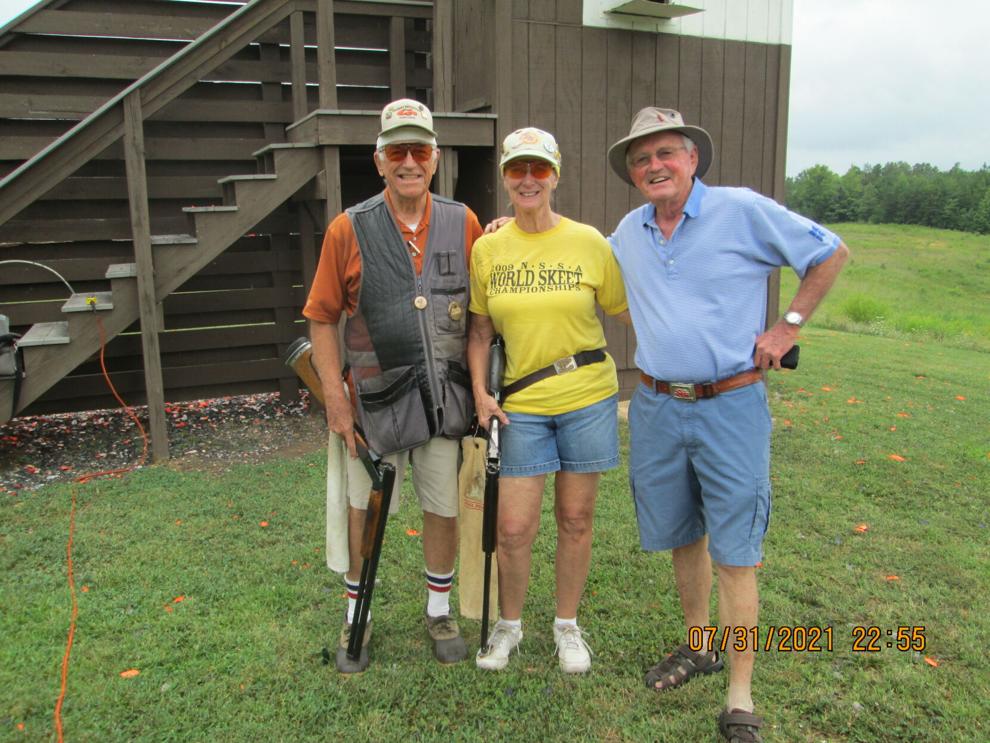 Halifax County Gun Club was a hot bed of activity this past weekend.
The gun club hosted the National Skeet Shooting Association sanctioned "Summer Shoot Out."
This year's event got kicked off on Thursday with the temperature and humidity near record high levels. Competition shooters from North Carolina, Mar, Ohio and all over Virginia didn't let the weather deter them though.
The first event of the evening was doubles. This event is where targets are launched simultaneously from two different trap houses.
State, regional and national champ, Katherine Adams, won this event with Monty Sprouse finishing as runner-up and Ron Headley placed third.
Adams started competitive shooting at an early age but had not been able to compete the last few years because of college. After a few rounds of practice, she was right back to her normal world-class form. She has been encouraged many times to try out for the USA Olympic Shooting Team, and there are hopes that she will do so one day.
The 12-gauge event started the festivities on Saturday morning. Thankfully, the temperatures had calmed down and conditions were near perfect for skeet shooting. These ideal conditions presented some great scores and many happy shooters, especially the ones recovering from the heat on Thursday and Friday.
One of the happiest shooters on the field was Ken Gowen. He shot his first perfect score of 100x100.
Sprouse also shot a perfect score of 100x100, so the tie had to be settled by a sudden death shoot-off.
Gowen won the shoot-off and Sprouse settled for runner-up with Jim Smith placing third.
The 28-gauge shoot kicked off right after the 12-guage event Saturday with Adams winning this event as well with Sprouse finishing as runner-up and Chris Grubb placing third.
The 20-gauge shoot followed with veteran shooter Bob Myers winning this event, Adams as runner up and Smith finishing in third place.
Bob and Becky Myers hold the world record for the most registered skeet targets ever shot.
Becky's total lifetime targets are 468,006 and Bob's are 593,647.
They hit the million together at the World shoot in San Antonio, Texas, three years ago. They are no. 1 and no. 2 for lifetime skeet targets in the world. Both started shooting registered skeet in the early 1970s. Bob, US Navy Ret., started in California; Becky started in Florida. They were married on a skeet field at Fairfax Rod & Gun Club in 1989. Newton stated that in his opinion that there was no way this record would ever be tied or broken.
Finishing out the schedule was the most difficult event offered, the .410-gauge. Under current rules set by the NSSA only one-half ounce of lead shot is allowed in each shell. The clay target, which is only 4.24 inches in diameter and traveling at 50 mph must be broken with this half oz. of shot.
Once again, Adams prevailed in this event with veteran shooter Smith as runner-up. Local club member Ronnie Newton finished third in the .410-gauge shoot.
HCGC member Newton said shooters enjoy competition events at Halifax because of the great background. With the skillful trap mechanics at HCGC the targets are thrown about as perfectly as possible, he said.
Newton said he and his group put on a great event and many compliments were received.
HCGC is known as the friendliest club in the state and known for the great food served, according to Newton.
Building and grounds members Randy Joyce, Billy Dunn and Clarence Morris had the grounds meticulously prepared for this event, he added.