Juanita Cross knows that what she is able to do at the age of 93 is special. She doesn't take anything for granted as she continues to get out and stay active, whether it is playing pool at the Washington Coleman Community Center, playing tennis, raking leaves in her yard or just driving around town.
Cross' family is from South Boston, and after spending time in New York and Washington D.C., she moved to South Boston as well to take care of her mother. She estimates it was somewhere around 30 years ago that she moved to the area, but it has become home to her now.
She began playing sports in high school where she played basketball at Ossing Senior High School in Ossing, New York. She attended Shaw University and North Carolina A&T.
She credits her love of tennis back to when she would visit her mother and grandparents in South Boston. "They had a field at their house where they put a tennis net across it and that is how I learned to hit," Cross said.
"I have been in sports all of my life. I started playing in all kinds of tournaments in Washington D.C. and I moved down here because my mother was sick and then I picked up tennis down here so I have just been playing tennis forever."
Cross has competed in over 50 tennis tournaments in her lifetime that include the Senior Olympics and playing for the United States Department of Labor and the Super Seniors.
Many of her trophies have been from senior tournaments, including The Gazette Virginian/YMCA Tennis Championships held in South Boston in the 1990's.
Cross also has helped as a volunteer coach for the girls tennis team at the high school as well, where she was a favorite among the girls and coaches.
For her 90th birthday, the girls tennis team had a party for her at Italian Delight where they showed their appreciation for all that she had done for them as a volunteer coach. The players all talked about how much she had shown them and about how Cross was more than a coach, she was a mentor to them.
In addition to tennis, Cross said she has always had a love for singing and has several trophies for winning singing competitions in her house as well.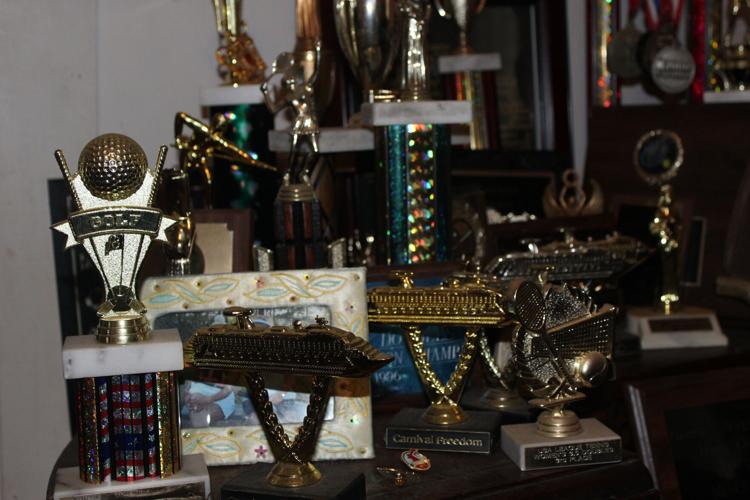 Cross also has played pool regularly at the Washington Coleman Community Center and says that Blue Stephens has helped her get into billiards and taught her how to play.
When asked what motivates her to stay as active as she is at her age, Cross said doing these activities keeps her out of the house.
"It is something to do rather than staying in the house. I could walk down to Washington Coleman but I don't, I drive my car down there," she said. "But it is something to do, if you stay home and lay up and look at television you get fat and I don't want to do that," she added.
As Cross heads to her 94th birthday in a few months, she shows no signs of slowing down. She continues to do everything by herself including raking all of the leaves in her yard back in the fall into piles, and driving to wherever she needs to go.
Her mind is still sharp, and her tennis and billiards game is as well. When told that what she is able to do is amazing, her response was "I think so too," with a laugh.