Halifax County High School freshman Kameron Roberts was a standout basketball player for the Comets in his first year on varsity.
He was a mainstay in the starting lineup and averaged double figures each night in the scoring column.
As Roberts begins to look forward to his sophomore season, and what could be the best season for the Comets in recent memory, he remains humble, a trait those closest to him recognized at a young age.
Roberts began playing basketball at 4 years old. He gravitated toward the game as well as baseball throughout his childhood. As he got older it was basketball and football that became the sports where he excelled.
When he started middle school though, he was cut from the basketball team during tryouts in his sixth grade year.
Roberts, who is now listed at 6-feet, 6-inches tall, had yet to hit his growth spurt, and when he tried out for the basketball team in sixth grade he was still less than 6-feet tall. There were only a few sixth graders who made the team, but Roberts was not one of them.
Roberts hit his growth spurt soon after and his basketball game improved as well. He made the middle school team in seventh grade, and by the time he hit eighth grade, the high school coaches knew he was a special player.
He wasn't a new face to those high school coaches — Sterling Williams and Nathan Lantor have hosted basketball camps for children of all ages for many years. Roberts began attending those camps at the high school when he was still in elementary school.
"He always listened really well. He did what you asked and always tried to do what was being taught," Lantor recalled about Roberts attending those basketball camps when he was younger.
"That's the beauty of summer camps, because we get to see these kids at a young age," Williams said. "That's what it takes to grow the program in the right direction, finding those kids at an early age and build the relationships with the kids and their families," Williams added.
Williams credits his assistant coaches, Lantor, Hakeem Pettus and Mario Sadler with establishing those relationships with the players and their families which has helped create the sense of family that the basketball team has formed since Williams and his staff took over.
Those camps, along with his raw talent shaped Roberts into a basketball player who was getting a lot of attention. Williams and his staff reached out to Roberts about the possibility of moving up to play for the JV team during his eighth grade year.
"We recognized the potential for him to play varsity as a ninth grader so we talked to him about coming up to play JV his eighth grade year," Williams said.
Roberts and his family decided he would move up to play JV basketball a year early and the decision paid off. Roberts averaged double digits in scoring and had an immediate impact on the team. Williams said the JV team that year was very good and by the fourth quarter Roberts was usually on the bench due to the Comets having such a large lead, so Roberts was averaging those points with usually only three quarters of playing time.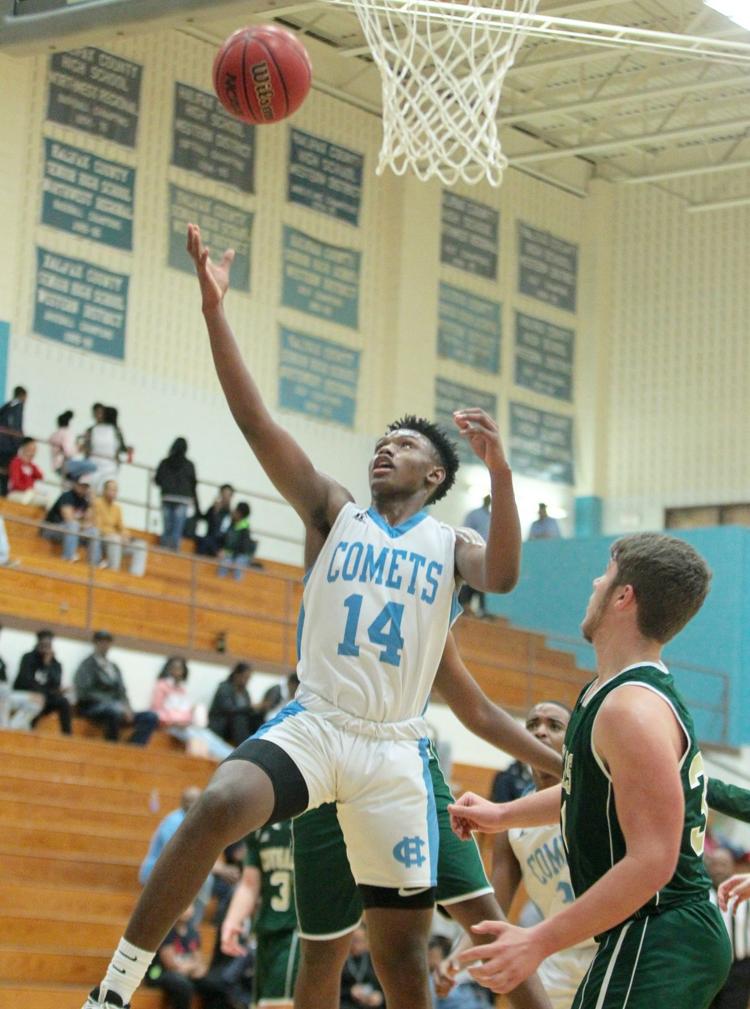 Roberts also moved up to play JV football in his eighth grade year and continued to play football during his freshman year. However, he's now going to focus solely on basketball from here on out, a decision he made on his own. Roberts wants to continue to work on his basketball game throughout the year so that he will continue to improve his game.
That game, as Williams describes it, is "polished."
"We all see his potential and how good he can be, he has a high basketball IQ," Williams said.
When the 2019-20 basketball season started, Roberts was a member of the varsity team. It wasn't until a handful of games into the season before Williams and Lantor realized that Roberts was ready.
"We didn't know he would adapt to the stage the way he did," Lantor said. "We didn't know if the game was going to move too fast or if the stage was going to be too bright," Lantor added.
It was apparent after those first few games that Roberts was going to adapt just fine. He quickly became one of the best players on the floor each night, and opposing players and coaches were dumbfounded that Roberts was only a freshman.
Roberts wasn't so sure how the season would go, and heading into it didn't have high expectations.
"I didn't really think I was going to start; it was kind of surprising a little bit," he said.
It can be a challenge sometimes for teams to gel together, especially when a freshman comes in who hasn't played with the varsity players much, but Roberts knew after the first few games that they had the chemistry needed to be successful. "Once we started playing together throughout the season we just started clicking," Roberts said.
One trait Roberts has on and off the court is his calm demeanor. He's a hard worker in practice and during games, but he doesn't show any signs of frustration, excitement or anything in between.
"He doesn't get down on himself if he makes a mistake, or if you get on him, he continues to play through it and adjust to how the game is being played," Williams said.
One example of this was Roberts hitting the game tying three-point shot against George Washington-Danville in the regional championship game. Roberts set up the shot by forcing a steal by the GW player, then teammate Kevon Ferrell passed him the ball to hit the shot to tie the game. That shot was huge as it would allow Ferrell to get the chance to win the game at the buzzer, which he did to give the Comets back-to-back regional championships.
Hitting that shot, in that situation with a standing room only crowd, against rivals with the regional championship on the line is something even the most senior player may struggle with, but Roberts was as calm as they get in that situation.
After that game, Roberts was in the locker room celebrating with his team when he was asked about that scenario on the court that set up the win, and calmly said he knew he had time to get off a decent shot, so when Ferrell passed him the ball he just took his time and knocked it down.
"He doesn't get rattled. He has a really good mindset for the game," Lantor said. "You don't find that often, he is that diamond in the rough," he added.
Roberts ended the season as a first team all-district player in the Piedmont District and was named to the second team all-region team for Region 4D. Fellow teammate Ferrell was named to the first team all-state in class 4 and Williams said Ferrell was upset Roberts wasn't named to the all-state first or second team.
Others echoed Ferrell's sentiment, but it also shows the unselfishness and closeness between Ferrell, Roberts and the rest of the Comets basketball team.
Roberts wasn't too worried about not making the all-state team. "I wasn't too concerned with not making the all-state team since it was my first year, but it was motivation to make it next year," Roberts said.
With all but three players from this past seasons regional championship team that made the state tournament for the second year in a row returning, Roberts knows that all eyes will be on Halifax as they will be one of the top two or three teams in the state coming into the season.
With the hype surrounding them, he knows that he and his teammates must remain humble.
"We just have to stay on track, build chemistry and keep doing what we are doing."