After 30 years of coaching high school football — and three years leading the Blue Comets — Grayson Throckmorton is stepping down.
While not divulging any specifics, the Halifax County native announced his retirement from coaching duties for the varsity football team Friday. For now, he'll still remain as a high school teacher.
"This is a decision that is solely based on me and nothing from any outside factors," he said. "I think it is time for me to step down, and there will be someone else taking over who will work just as hard and carry on the Blue Comet tradition."
Throckmorton, a member of the 1984 state championship baseball team, graduated from Halifax County High School in 1985. In addition to baseball, he played football and was on the 1984 regional runner up football team that went 9-3 as well.
After graduating from Ferrum College in 1990, Throckmorton returned home to work at the Virginia Department of Transportation in Volens. It wasn't long after he found himself back to his Halifax roots when he received a call from then Halifax athletic director Ron Ramsey.
Ramsey said a coaching spot was available on the football staff and asked Throckmorton if he was interested.
Throckmorton said, "absolutely."
Larry Smith was in his second season as the Blue Comets head coach when Throckmorton started on the staff.
It was in his second season as an assistant that Throckmorton found himself part of another state championship team in 1991.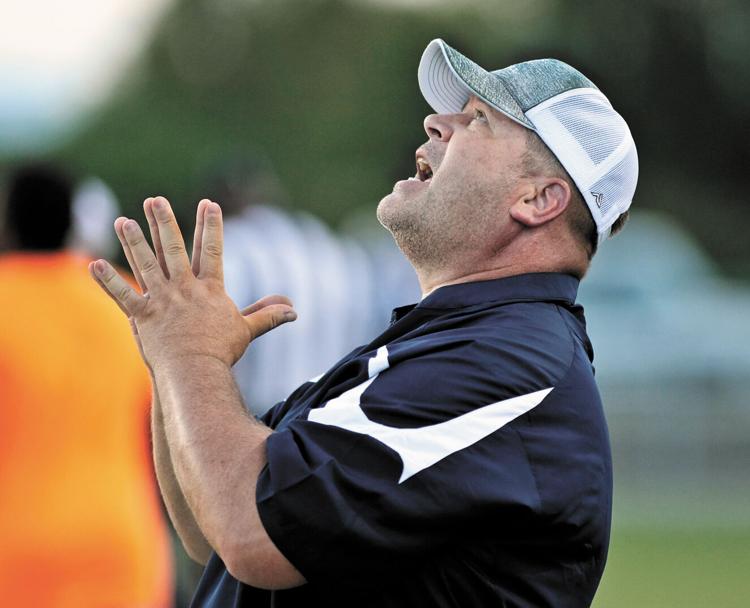 He stayed in his assistant coach position for eight seasons before taking a similar position with E.C. Glass High School in Lynchburg. After three years there, Throckmorton accepted a head coaching position at Dinwiddie County where he stayed for two seasons and then moved on to Nottoway County High School, where he stayed for 14 years as an assistant and then head coach.
Then, after a one-year stint at Buckingham, it was time to come home again.
"I am one of the few very fortunate people in the coaching profession to be able to come back to your hometown and finish my career out on my terms," he said.
Throckmorton was named head coach in March 2017.
"Coming back here was a complete honor and a good way to cap off my 30-year career," Throckmorton said.
He used the three seasons as head coach to turn the Halifax program around and last season led the team to their first home regional playoff game in 28 years.
In making the Friday announcement, Throckmorton was joined by Halifax County High School Principal Michael Lewis, athletic director Allen Lawter and Superintendent Dr. Mark Lineburg — all seated 6 feet apart, a nod to social distancing in the coronavirus era. As a matter of fact, due to COVID-19, there won't be a fall football season this year. The Virginia High School League is expected to announce Monday a final plan that may push fall sports back to a mid-March start.
Lewis always enjoys seeing people who graduated from Halifax County, find success, but then come back home to contribute to the younger generation, something Throckmorton did day-in-and-day-out as head coach for the Blue Comets.
"Being committed to the young people not just as athletes but also in the classroom," Lewis said.
"On the field he had that commitment to make those people a better person that they could go out and come back and contribute to Halifax County," the principal continued. "That is a big deal, to have that role model at the head of a program who is going to teach you those things that you need to know about life and not just the game of football," he added.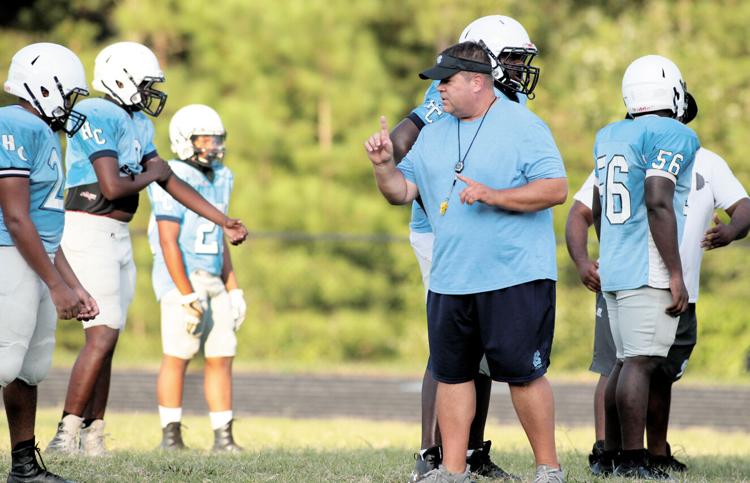 Lewis believes the football program is stable and has a good base to move forward.
Echoing that sentiment, Lawter said Throckmorton's impact was larger than just the football program.
"He did things the right way and that always makes it easier on me," Lawter said. "Not just logistically as far as paperwork and stuff like that, but he tried to make sure his players did the right thing, and character was a big part for him in trying to make sure his football players character improved and it showed in school."
As reflection on the head coach, Lawter noted minimal incidents from the football players.
Working with those young men and seeing them grow is one of the things Throckmorton will miss the most.
"The hard work that you put in and to see it pay off in the end, that is probably one of the most rewarding things that you can experience," he said.
As a coach, Throckmorton said he wanted his players to "buy into the program" and understand that football isn't all Xs and Os on the field. Instead, it's about character and how players conduct business and handle themselves.
"Right on down to the cleanliness of the locker room up to winning on Friday night," Throckmorton said. "I think we were able to implement a lot of those character lessons and a lot of those values and ethics into the program."
There are few jobs in the community as high profile and tough as being a head football coach, according to Lineburg.
"He has taken a lot of pride and done a great job," the superintendent said. "He has advocated for better facilities, and advocated for better youth programs, and he loves his students and athletes that he has had and we will miss having him."
Praise abounded for his fellow faculty members and coaches, a winning combination in itself for Halifax County High School.
"It takes a village, it is not just one coach. It takes a village for things to succeed," he added.
Throckmorton said he had complete support from Lewis, Lawter and Lineburg with his decision.
"I know for me that I have got a lot of life ahead that is going to be very fulfilling so this is just one chapter that is closing, and I have a lot of really good things that are opening up in the future," Throckmorton said, fighting back tears. "It has been fun and it will be missed."