The learning curve continues for the Halifax County High School varsity volleyball team, which dropped all three sets in a 25-17, 25-16 and 25-13 loss to Bassett High School at Halifax County High School on Monday.
The Bengals broke away from an 8-8 tie in the first game to lead 21-14, and the Comets rallied late to get to within four points at 22-16 before dropping the first set.
A slow start in set two had the Comets trailing by nine points, with Bassett taking an 11-2 lead, and Halifax rallied again to get to within two points at 15-13, but the Bengals outscored the Comets by a 10-3 margin to take the set.
Halifax County held an early 3-2 lead in set three only to see Bassett go on a nine-point run to take control, and the Comets could only get as close as six points before the Bengals pulled away to the win.
Some of the same issues that cost the Comets in an opening match loss at Tunstall High School last week hurt them again against Bassett, including court coverage, but especially net coverage, where the taller Bengals took advantage of free balls for a number of points.
"We gave them way too many free balls," noted coach Sunshine Martin.
"Our passing actually was better than it was against Tunstall, which gave us some opportunities to attack a little more, so we need to learn to transition better off that net, so we can attack."
On offense, the Comets also were too predictable, set, bump and spike, instead of finding different ways of attacking the Bassett defense, Martin added.
"We can't be so predictable," she said. "We would hit, hit and hit instead of tipping the ball more, so I told the girls we need to be a little less predictable with the ball."
The Comets were a little out of position at times when they were on offense, and on defense they were a little late in getting to the right spots.
"We were out of place a little in our hitting," explained Martin. "On defense, we were in the right spot, but we just have to move a little quicker to it."
In set one, Amanda Duffer and Trinity Martin each compiled two kills, Kirsten Wellons and Tessy Henderson each had one kill, and Sarah Watts and Arissa Conner each compiled one assist.
Wellons led the Comets with four kills in set two, while Duffer, Watts, Madison Barnes and Henderson each added one kill apiece, and Conner and Watts had one kill apiece. Duffer had one kill in set two.
Watts and Martin each had two kills in set three, and Wellons had one kill, while Watts had two kills and Martin one kill.
Monday's match was another learning experience for the Comets, Martin indicated.
"We have to learn how to find the open spots on their side, and make sure we get the ball to their open spots," she concluded.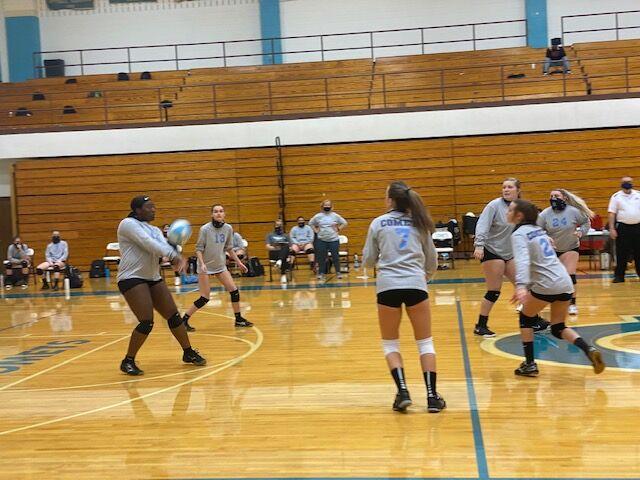 Jayvees get first win
The JV volleyball team got its first win of the season after a close match with Bassett, winning in two sets, 26-24 and 25-18.
The Comets rallied from as many as six points early in set one to tie the match at 20-20, and Bassett held a 23-21 lead before the Comets rallied again to win set one.
Halifax County never trailed in set two, taking leads of 7-2 and 23-16 before closing out the set and the match.
Peyton Irby had two service aces, one kill and one block for the Comets, Shamya Hankins finished with two good serves and one service ace, and Jadyn Harlow finished with three good serves and one service ace, one kill and one dig in set one.
Abby Duffer compiled three good serves, Destiny Talbott had one kill, Katie Reaves finished with one assist and one dig, Emma Payne had three assists, and Kate Jackson had two good serves for the Comets.
Sarah Vernon added a kill for the Comets in set one.
Set two had Jackson, Irby and Harlow finish with four good serves apiece, Payne with two service aces and Jackson, Talbott and Harlow with one service ace apiece.
Harlow and Irby each had three kills, and Payne and Hankins each had two kills in set two, while Payne and Jackson led with three assists each, and Duffer and Hankins one assist apiece.
Reaves had two digs and Duffer and Harlow one dig apiece in set two.