It's been a football training camp like no other before it, as the Halifax County High School varsity football team prepares for a scheduled season opener, in March instead of August or September.
The Comets are scheduled to face Bassett High School at Halifax County High School on March 5, but due to potential COVID-19 related precautions, nothing is set in stone, noted first-year Comets head coach Rob Senseney.
Recent COVID-related guidelines issued by Virginia Gov. Ralph Northam limit the number of spectators at football games at 250.
With COVID-19 restrictions forcing postponement of the 2020 season, the last time the Comets saw the field was the first round of the 4D regional playoffs in November 2019, a loss to GW-Danville.
Senseney is well aware of the challenges facing he and his staff as the season approaches, and not all of them have been COVID-related, but particularly weather-related, with inclement weather interfering with time on the field.
"There's no book on this or anybody to call to get advice," said Senseney.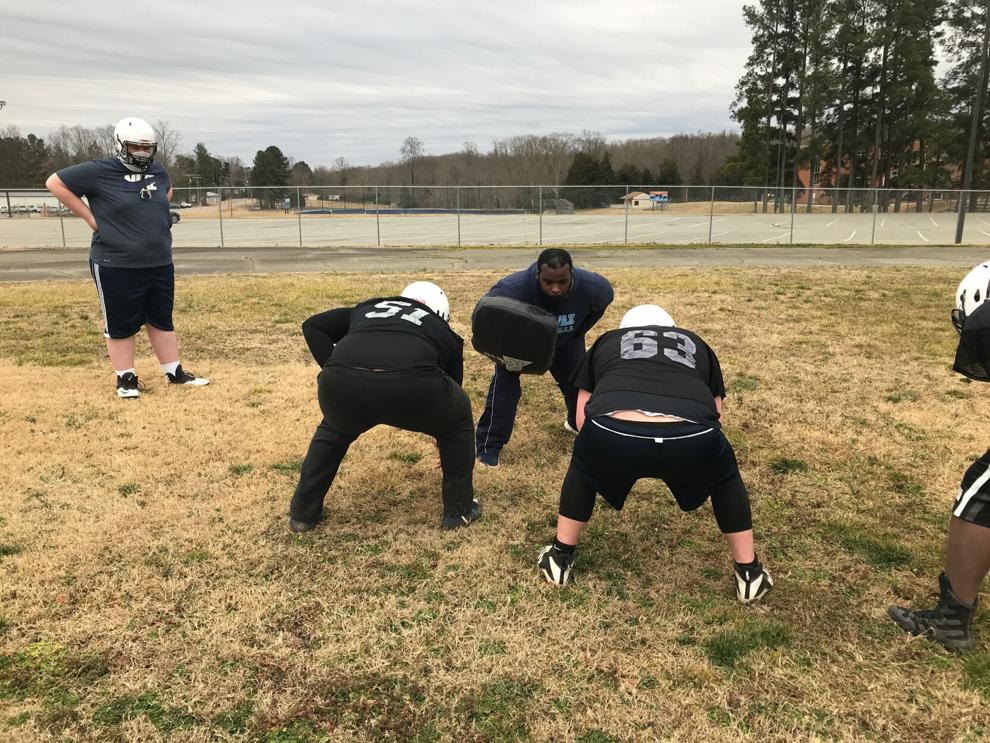 "We're all going through this at the same time, and we try to do everything with our kids' safety in mind first," added Senseney, noting the team has practiced seven times already, including the first day of practice in shoulder pads on Monday.
The Comets are not fielding a jayvee football team this spring, according to Senseney.
"Working around COVID, I think we've done a good job as a staff following all the guidelines, and the kids are doing a great job," Senseney noted.
The first days of practice focused on fundamentals and conditioning, with players and coaches masking in obeyance of COVID-19 related protocols.
"We're trying to piece together an offensive line and seeing where our skill kids are at," explained Senseney, who welcomed between 25-30 for the first day of tryouts.
"We're figuring out what we have and trying to move those pieces around," said Senseney, who is hopeful the numbers improve to around 40.
With inclement weather cancelling outside practice, the coaching staff is using electronic tools of the trade to keep on track.
"Some of our practices have had to be on Zoom. The coaches have done a good job with Zoom meeting with our kids, getting stuff laid out and ready to go," said Senseney.
Priorities continue to be conditioning and getting kids familiar with Senseney's system and how he does things.
"Practice may be universal, but I do things a little differently," explained Senseney.
"I don't know how Coach (Grayson) Throckmorton did it last year, it may be the same. I'm getting kids to know how I do things."
COVID-19 protocols, which require both coaches and players to wear masks, has been challenging as well as he becomes familiar with individual players, noted Senseney,
"This day with all the challenges of COVID, we're just thankful for all the kids who came out, and for their families to trust us with their kids," he noted.
"I have been pleased with the start, and I'm extremely happy with our kids.
"We've been able to string back-to-back practices, and we've gotten better and improved immediately.
"Our kids have a great attitude, they're excited and like what we're doing."
At this stage of practice and tryouts, there still are a lot of things to clean up and get better, according to Senseney.
"COVID is just the reality of what we're doing, in all honesty when it comes to practice the first goal is to be safe as possible," noted Senseney.
Still, nothing is set in stone, he emphasized.
"It's the best start we can ask for, given COVID and the weather," Senseney remarked.
"I told people from the start, nobody was talking about the weather, but that's going to be the monkey wrench in all of this.
"That's going to be the big interference. You're going to see the schedule move around."