There is no question the Halifax County High School football team is making progress as it heads into Friday night's season-opening Memorial Game against Nottoway County High School at Tuck Dillard Memorial Stadium.
Comets head varsity football coach Grayson Throckmorton wishes, however, that the progress would come with more consistency and come a little quicker.
"It's been a tough August, and we're still plunging forward," Throckmorton remarked.
"We will take three or four steps forward and then a couple of steps back, two or three steps forward and then one step back. We've got to stop taking the one backs and keep moving forward, and we will."
One of the chief issues Throckmorton has been addressing with the team is getting off to a good, strong start in games. In last Friday's Benefit Game against Buckingham County High School, the Comets' offensive unit was on the field only long enough in the first half to run a total of six offensive plays, with the team netting no yards of offense through the first two 10-minute quarters.
"Up front, physically they (Buckingham County High School) took it to us," Throckmorton pointed out.
"It took us awhile to sort everything out and get after it. I was really displeased with not coming out of the starting gate at full speed. It took us awhile to get settled down and get things going a little bit.
"I wanted us to fire out of the gate like race horses and we didn't," Throckmorton continued.
"That is something we've been working on, and we're going to continue to work on. In order for us to be a good football team, we're going to have to be able to do that sooner than later."
Throckmorton says more progress can come more quickly if the team can improve in a few areas.
"If we can take care of things right in front us, like simple assignments, overall hustle and better directional steps on offense and defensively recognizing formations and getting the proper strength call, which we struggled with a little bit last Friday night, we can do better things," he pointed out.
While progress has been a little inconsistent, Throckmorton is enthusiastic and optimistic about the team's fortunes this season.
"I've been optimistic since the end of last year," explained Throckmorton.
"We have been a little bit slow taking off, and that has been a little disheartening. Be that as it may, I'm still very optimistic about this season. As quickly as things can turn bad on a dime, things can turn really really good on a dime too. We've been slowly turning, and I want us to turn quickly on a dime here, and get going in the right direction, because I think we can do a lot of things well."
Throckmorton points to the Comets' defense being ahead of the offense in terms of progress at this point.
"I really feel our defense can be a stalwart for us," he remarked.
"We could be pretty doggone good on defense, especially with the personnel we have. If we put some grit into it, get off the ball, fly around, do our techniques, have fun and throw caution to the wind, I think we can make some noise."
Right now, it's a little different story on the offensive side of the ball where a lot of work is being focused on the offensive line play.
"Offensively, it's a little different beast," Throckmorton noted.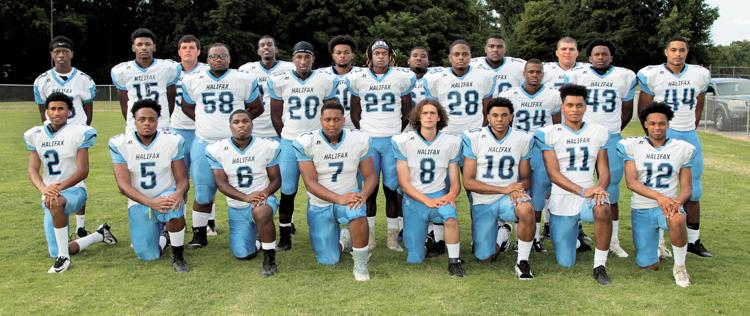 "We've got to have our timing down, stay on our blocks, and we've got to be more aggressive. We're working on these things. We're working on finding a way where we can get people involved that can make a big positive impact for us."
Special teams play is something of a question mark. There was no live play with special teams in last Friday's Benefit Game, and, as a result, special teams play is something of an unknown.
"We're going to try to not let special teams beat us, and slowly work ourselves through practice to where we make special teams win for us," explained Throckmorton.
"Right now we're having a little trouble with the kickers. Both of our kickers are sick. We very well might be going for two point-conversions Friday night against Nottoway."
Throckmorton says a win against Nottoway Friday night is important because it will create confidence and provide a morale boost for the players as the head into a bye week and what will be a two-week break before facing neighboring border rival Person High School.
"Everybody knows you win the first scrimmage, and you win the Benefit Game, it's great," Throckmorton remarked.
"Nothing does the mindset the right way until you win an actual game. Friday night is the first real game where it counts. It was nice to come out on top in points in the Benefit Game, but where it really counts starts Friday night. We've got to be able to pull this one out, so we feel good and can really work hard on some things during the upcoming two weeks with a positive mindset.
"I think it (Friday night's game against Nottoway, is going to be a good challenge," he added, "and I think if we can play with some heart, we can make Halifax proud."