The Halifax County High School varsity volleyball team has shown improvement in some facets of its game, but it wasn't enough to prevent straight-set losses to Piedmont District opponent Magna Vista High School and Gretna High School in back-to-back contests Tuesday night and Wednesday night.
In Tuesday night's Piedmont District opener, the Comets lost 3-0 to Magna Vista High School in Ridgeway by set scores of 25-17, 25-23 and 25-14.
Against Gretna High School in Wednesday night's home non-district match, the Comets lost 3-0, with the Hawks topping the Comets by scores of 25-16, 25-18 and 25-19.
Wednesday night's loss dropped the Comets' record to 0-4 overall and 0-1 in Piedmont District play.
"We had sloppy defense and sloppy transitions," Comets head coach Meg Bane said following her team's loss to Gretna High School.
"Gretna has an excellent middle hitter. She probably scored 15 points. She is a very quick middle hitter, and we haven't seen anybody hit that well. Hat's off to that athlete. She's awesome.
"Ten or 15 points coming off of this one girl, and we're not transitioning to where we need to be defensively, they're going to score the points where we're not."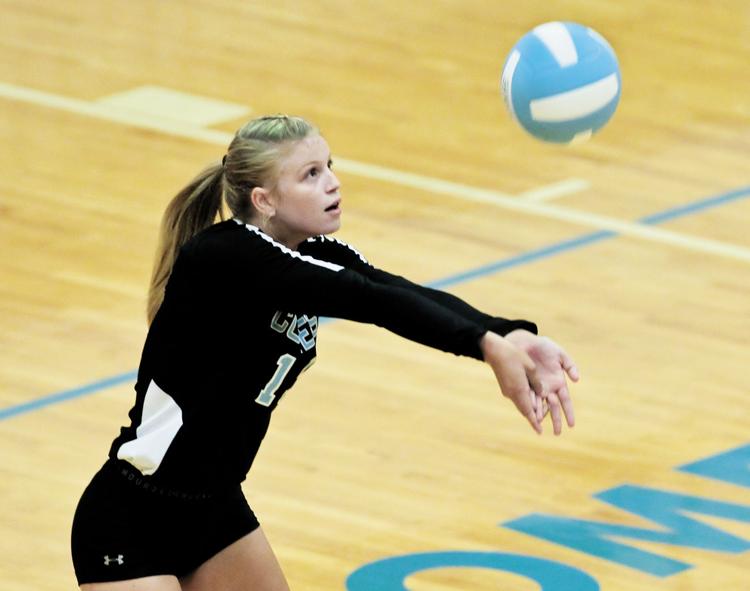 On a positive note, the Comets are showing improvement as they are cutting down on errors.
"Two games ago, we had 17 service errors, and this game we had four," Bane pointed out.
"As a coach, that's awesome to see. We had seven hitting errors in this match, and two matches ago we had 15 hitting errors, so that improved as well. We're getting more consistent in serving and hitting. We just have to put all of the pieces together."
Gretna High School led throughout the first set enroute to its 25-16 opening-set win. Halifax County High School led early in the second set, but did not lead again after Gretna High School took a 4-3 lead. The Comets kept the score close, overcoming a seven-point deficit to get to within two points at 12-10, and later rallying from a second seven-point deficit to get to within three points at 18-15.
It was all Gretna High School in the third set, with the Hawks maintaining a lead ranging from seven to 10 points until the Comets rang up six straight points to get to within four points at 23-19. Gretna High School quickly scored the final two points it needed to win the set 25-19 and take the overall match win.
While the Comets were defeated in straight sets in Tuesday's Piedmont District opener at Magna Vista High School, Bane was pleased with her team's effort.
"We played the best we have played the first two sets," Bane pointed out.
"We had excellent defensive transitions and serve receive. We didn't capitalize on a few things, which led to unearned points for Magna Vista."
Bane cited good play from several players.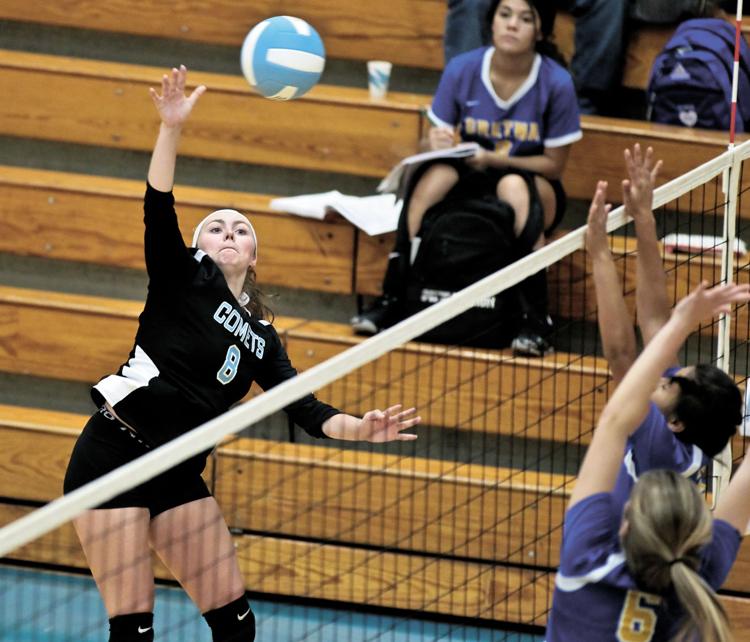 "This was an excellent game for Sarah Watts," Bane said.
"She had eight points off service, 11 attempts for hitting with four kills and also had five digs. Kendall Fouchee had 12 good serves and scored seven points with 26 good sets. Trinity Martin had two blocks. Our libero, Kylie Satterfield, had her best game. She had excellent serve receive and defense with seven digs."
MAGNA VISTA HIGH SCHOOL 3 HALIFAX COUNTY HIGH SCHOOL 0
Set Scores: Magna Vista 25-17, 25-23 and 25-14.
Points scored – Kendall Foushee 5, Sarah Watts 4, Madison Barnes 3, Bailey Bowen 2, Amanda Duffer 2, Raegan Ridgeway 1, Kirsten Wellons 1
Aces – Bailey Bowen 1, Madison Barnes 1, Kirsten Wellons 1
Kills – Sarah Watts 4, Madison Barnes 2, Kirsten Wellons 2, Bailey Bowen 1
Set Assists – Kendall Foushee 4, Sarah Watts 1, Madison Barnes 1
Blocks – Trinity Martin 2
Digs – Sarah Watts 4, Kirtsen Wellons 2, Kendall Foushee 1, Trinity Martin 1, Kylie Satterfield 1
GRETNA HIGH SCHOOL 3 HALIFAX COUNTY HIGH SCHOOL 0
Set Scores: Gretna 25-16, 25-18 and 25-19.
Points scored – Madison Barnes 6, Kendall Foushee 5, Amanda Duffer 5, Trinity Martin 4, Cassie Ashe 3, Kirsten Wellons 2, Sarah Watts 1
Aces – Amanda Duffer 3, Madison Barnes 2, Kendall Foushee 1,
Kills – Trinity Martin 3, Madison Barnes 2, Kirsten Wellons 2, Amanda Duffer 1
Set Assists – Kendall Foushee 5, Madison Barnes 3
Blocks – Sarah Watts 1, Madison Barnes 1, Trinity Martin 1
Digs – Kirsten Wellons 3, Sarah Watts 1, Trinity Martin 1