Trinity Martin, a senior softball centerfielder for Halifax County High School, made her commitment official Wednesday by signing on the dotted line to play for Virginia Tech in 2023.
She made her verbal commitment to be a Hokie back in September 2020.
Along with Tech, other schools including the University of Virginia, Radford and Miami University in Ohio made offers to the multitalented athlete who bats left-handed but throws right-handed.
But Tech held a special place in her heart after stepping foot on the campus to participate in softball camps.
"When I first started my recruiting process it wasn't my top school, but once I attended softball camps there it felt like home immediately and I knew I needed to be there," said Martin.
Martin exclaimed that playing Division 1 softball has always been a lifelong dream of hers and something she has wanted and worked for since she was 3 years old when she first began playing tee ball in Brookneal.
"This was my biggest goal and now that I have achieved that goal I feel as if it is a huge weight off my shoulders," said Martin.
Her parents, Sunshine and Gary Martin, plan to go and see her play once she reaches her collegiate career.
"We are beyond proud of her for the work she has done, proud is really an understatement, this has always been her dream," said Sunshine.
A member of the varsity team since she was a freshman, Martin has been successful for the lady Comets in the softball program and played on the jayvee team when she was an eighth grader.
"I just love the competitiveness of the game, I have always played with older age groups and always liked playing with older girls because it helps me improve my game and its extremely competitive," said Martin.
She was dominant at the plate for the Comets last season with a batting average of .636, an on-base percentage of .714, 32 hits, four home runs and 20 RBIs over a 25-game span.
"This is all a culmination of her hard work, everyone is proud to see her sign, I personally am very proud," said Comets' softball head coach Woody Bane.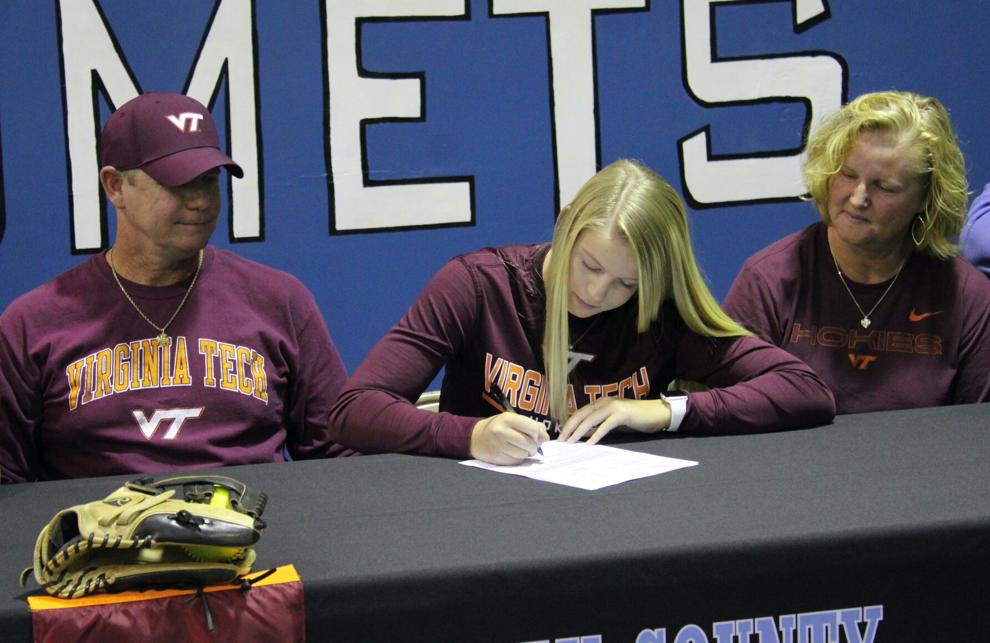 He added, "She will be successful at Virginia Tech, she is excellent defensively, swings the bat tremendously and is extremely fast."
Martin said choosing between offense and defense is a close competition, but she would split it saying 60% offense and 40% defense.
"She is a great ball player, but she is an even better person when you get to know her," he said.
Martin will be moving on from a Comet to a Hokie in less than a year and will miss being part of the HCHS softball program.
"I'll miss the family-like atmosphere the team has always had, it is never just about one person it has been about the team's success and we're very competitive with one another, our love for the game is crazy," said Martin.
Bane said she accepts her role of being on a team she has the mindset of "We have to do it" and said with her mindset she will be very successful at Tech.
"She represents the softball program how you would like every athlete to represent it, she has top character, she is an excellent student athlete, she works hard, is a great teammate and has great sportsmanship which comes from her mom, dad and her coaching," said Bane.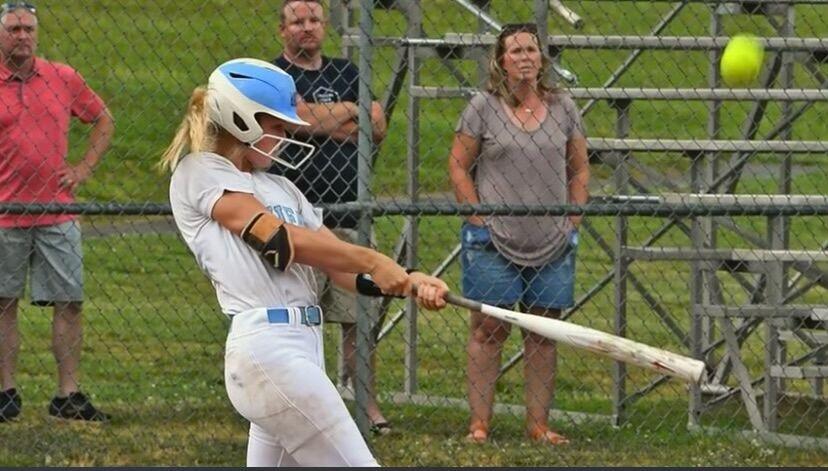 He added, "She is an extremely hard worker she sets goals and makes sure to reach them, she asks for more fly balls and ground balls, she works hard on her swing, and I mean she has all the traits to be successful."
Bane described her as having top-of-the-line character, excellent in academics, friendly and outgoing.
"If I was to give her one piece of advice on playing college softball it would be to approach it like a book, begin on page one work hard and earn everything, I wish her the best of luck," Bane concluded.
Her mother also coached her since she was 4 years old through tee ball, dixie youth softball and travel ball before stepping down two to three years ago.
"I told her it is time to go and blossom with someone else I have taught you all I can, it was wonderful to coach her and see her grow, but it was also a fabulous feeling to just watch her play," said Sunshine.
She added, "As her coach for many years I can say her work ethic is unreal, she is one of the only kids I know that works on her own, one travel tournament she went 3-4 at the plate but said she needed to go home to hit because those hits weren't good enough, she is a perfectionist and has said she will be as close to perfect as she can be."
Sunshine was also Martin's volleyball coach for the Comets this past year.
Along with playing softball and volleyball, Martin also was a part of the swimming team and played middle school basketball.
"I am looking forward to meeting all the girls who are already there and reuniting with the girls who I have played travel softball with for four more years, I am also excited to meet more people with the same outgoing personality that I have," said Martin.
Sunshine said if she could give her one piece of advice for college it would be for her to enjoy every second.
Martin has not yet declared a major but intends on doing something in the health field.
"I would like to thank all my friends and family members for supporting me through this journey," Martin concluded.
Martin will have one more softball season to prepare for her collegiate career and is looking forward to improving and working hard every day.