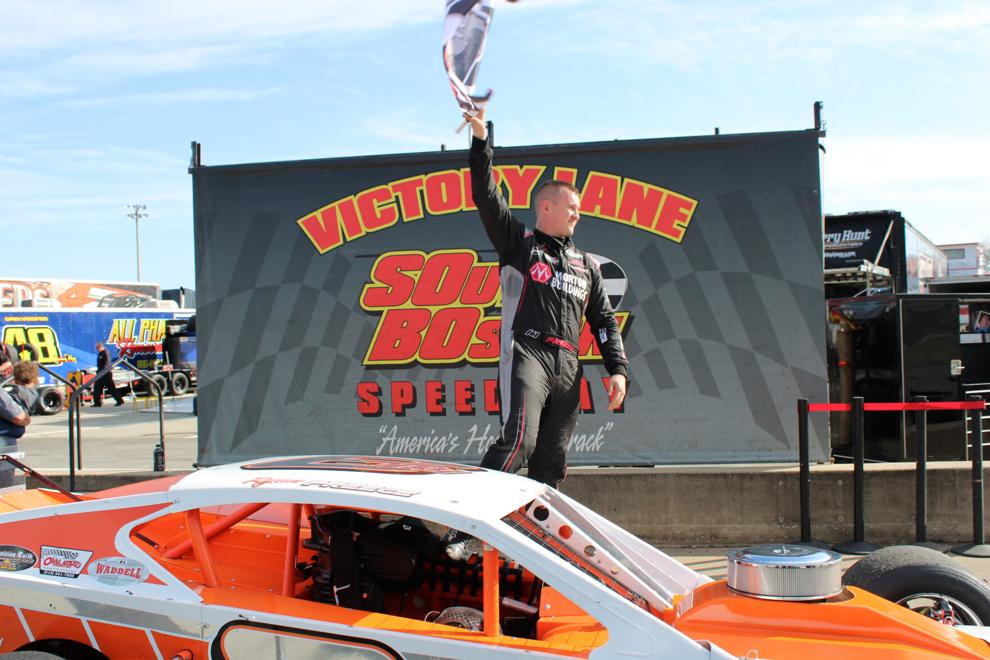 Ryan Preece held off pole-sitter Chuck Hossfield and Burt Myers to take home a win in Saturday's 99-lap SMART Modified Tour race at South Boston Speedway, a race including a field of 23 cars and was marred by nine cautions, including one red flag stoppage.
Hossfield, from Buffalo, New York, sat on the pole with a time of 13.923 seconds, but Preece passed for the lead on the opening lap and held it until Zach Brewer took the lead on lap 50. Hossfeld took the lead from Brewer on lap 51 and held it until Preece passed for the lead on lap 58 and held it from there, despite attempts from Hossfeld to retake the lead.
The margin of victory was .473 seconds for the New Berlin, Connecticut driver.
Preece now has won three time at South Boston, including the Denny Hamlin Showdown and a Southern Modified Tour race.
He said after the race that the number of cautions, including the final one with seven laps remaining, did not frustrate him or affect his racecar.
"I enjoy restarts," said Preece, who chose the outside line on the final series of restarts.
"The place was rubbered up, and it was best to be up top.
"We just had a good car and a good group of guys," Preece said with a nod toward his race team.
"We had a good car and had a good day. It takes everybody."
Preece has won two of the first five SMART Modified Tour races this season.
Hossfeld said his racecar was fast during the race but noted a couple of issues that prevented the car from getting any faster in his second Modified race of the season.
"I think we had a great run. We had a practice day yesterday and made the car better," said Hossfeld.
"Our car was fast, and the chassis was just phenomenal.
"We were fourth at Caraway but had a left front flat, and today we had a left front issue," he explained.
"Take those two equations out, and we had a winning car each time. but I'm proud of what we did accomplish.
"If we didn't have the left front issue, we would have been faster. On the restart I tried to go inside. I did the best I could but just came up short."
Burt Myers of Walnut Cove, North Carolina was third, with Dennis Holdren of Roanoke fourth and Jason Myers of Walnut Cove fifth in a race that took one hour and 15 minutes to complete.
Modified race veteran Tim Brown was injured during an incident in Saturday's SMART Modified Tour event, according to a press release from South Boston Speedway.
Brown was injured and was extricated from his vehicle. He was alert at the time and is now being treated at a local hospital. He remains in good condition and all injuries are non-life-threatening, according to the press release.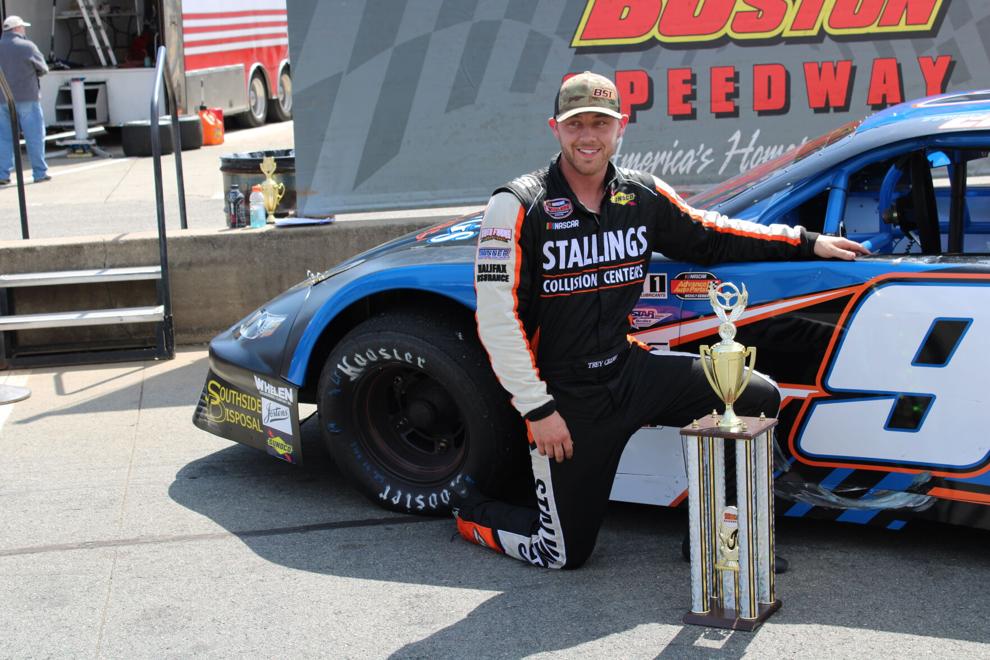 Late Model
South Boston resident Trey Crews won the 100-lap Late Model race on Saturday after over a year-long absence from the speedway.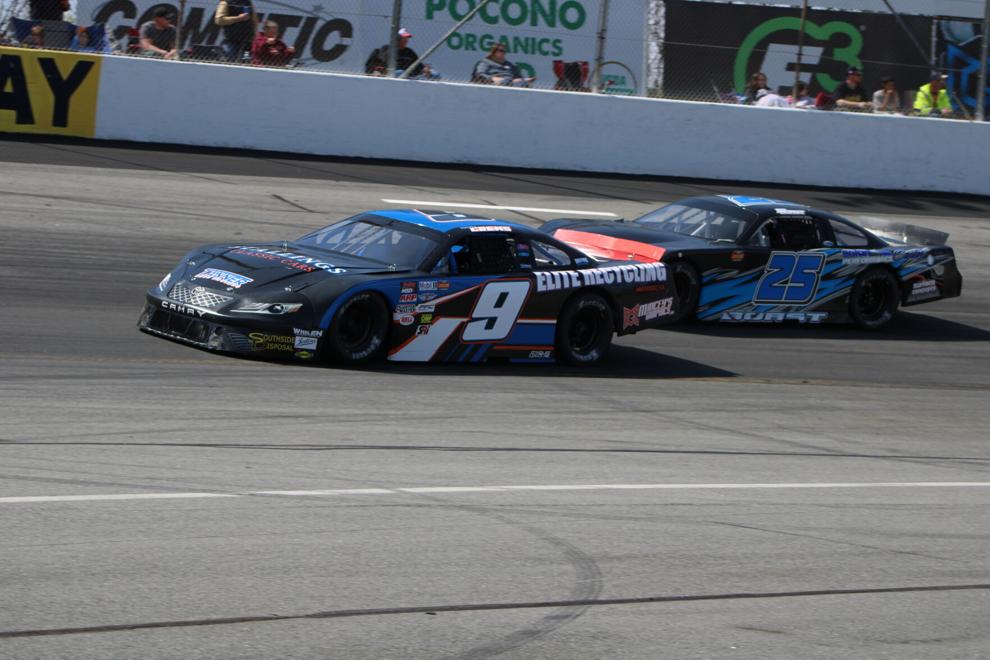 Crews won by two car lengths over pole sitter Jacob Borst of Elon, North Carolina, who qualified with a time of 15.129 seconds and led the race for 30 laps before Crews passed for the lead.
Borst stayed close to Crews' bumper for the remainder of the race, which was delayed by three cautions. 
"We knew it was going to be a little free and we were hoping the track would come to us and it did," said Crews after the race.
Borst's car adjusted to the track a little faster and he stayed on Crews' bumper after Crews passed him for the lead, according to Crews.
"I got a little bump for the lead change and got around him, and we just battled," said Crews, who found a good line on the outside to gradually pull away late in the race.
"It means a lot coming out here today for the first time in over a year and compete with these guys," added Crews.
"He's done a heck of a job in his first year in Late Models," Crews said of Borst.
"We like to battle each other, and we both had fun today."
Borst noted that he and Crews have raced against one another several times in the past.
"Track position here is key, and we saved our tires," added Borst. "It was a really good learning experience, and we were trying to get past Trey but just couldn't get it done.
"We both rubbed each other giving our all and racing to the limit, but it was clean racing."
Peyton Sellers of Danville, winner of the first two Late Model races at South Boston, finished third, Chris Denny of Timberlake, North Carolina fourth and Blake Stallings of Danville fifth in a race that took 38 minutes to complete.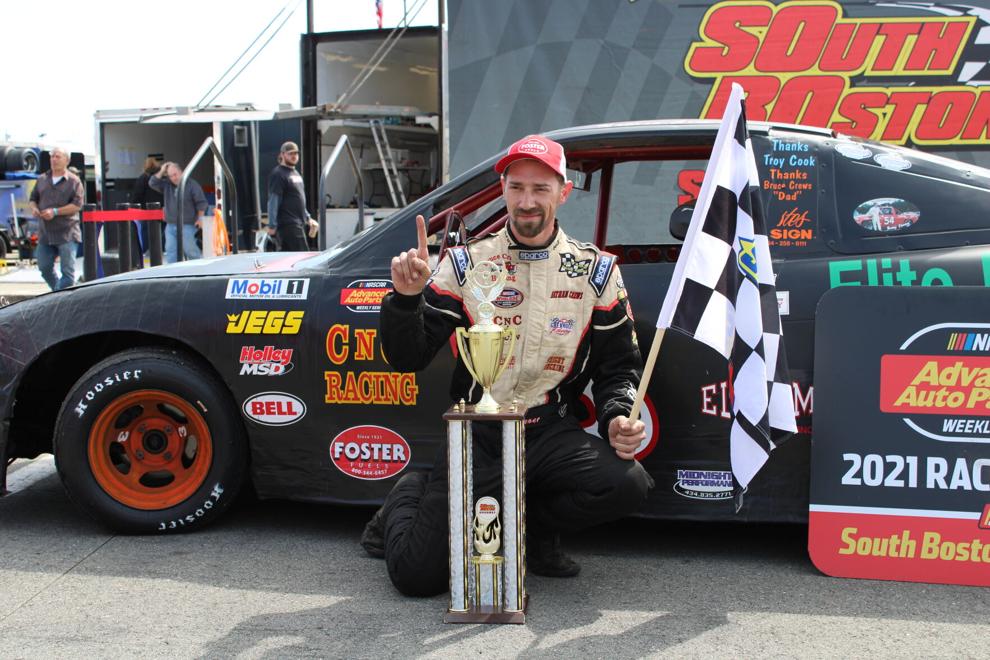 Pure Stock
Nathan Crews of Long Island captured the pole with a time of 17.958 seconds and led all 15 laps to win the Pure Stock race at South Boston Speedway on Saturday, with Justin Dawson of Nathalie finishing second, 5.367 seconds behind the race winner.
Bruce Mayo, Johnny Layne and Jared Dawson, all of Halifax rounded out the top-five finishers in a race delayed by one caution and took five minutes to complete.
Nathan Crews has two Pure Stock wins in two races this season.
"We knew it was going to be tough,"said Crews referring to the different track conditions bought on by the Modified machines.
"The track caught us off guard today. We won the pole but were slightly off in qualifying.
"In the race [the car] might have tightened it up a little bit, and there was not much margin for error today."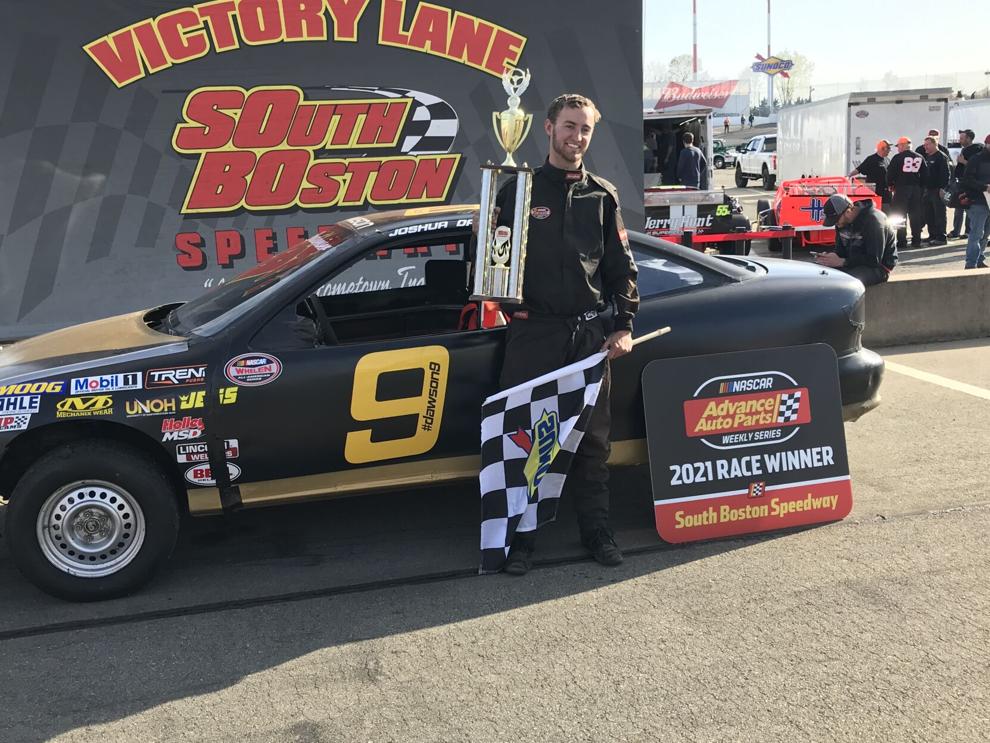 Hornets Division
The final race of the day saw Josh Dawson of Halifax take the lead from his cousin, Jared Dawson on lap 10 and lead the rest of the way for a win in a race that featured three lead changes among four drivers and took 11 minutes to complete.
Jared Dawson of Nathalie finished second, with Kevin Currin of Chase City, Dillon Davis and Andrea Ruotolo rounding out the top-five finishers.
Nathan Crews took the pole and led the first lap, with Davis leading one lap and Jared Dawson laps three through ten.
Driving from the rear of the field to win the race and passing his cousin were the hardest parts of the race, according to Josh Dawson.
"The track changed from practice, and I lost time after the modifieds ran because the track changed so much," explained the race winner.
"The caution helped a lot."