As an outside linebacker for the North Carolina A&T State University football team Courtney Edmonds knows what it is like to compete on a big stage in key college football games. This past Sunday Edmonds was set to compete on one of the biggest national stages in sports as the jackman for the No. 99 Trackhouse Racing Team and driver Daniel Suarez in the Daytona 500.
Unfortunately for Edmonds and the rest of the Trackhouse Racing Team Suarez's car was among 16 cars caught up in a huge crash on lap 14 of the 200-lap race, with Suarez being forced to retire the car from the race in the wake of the crash.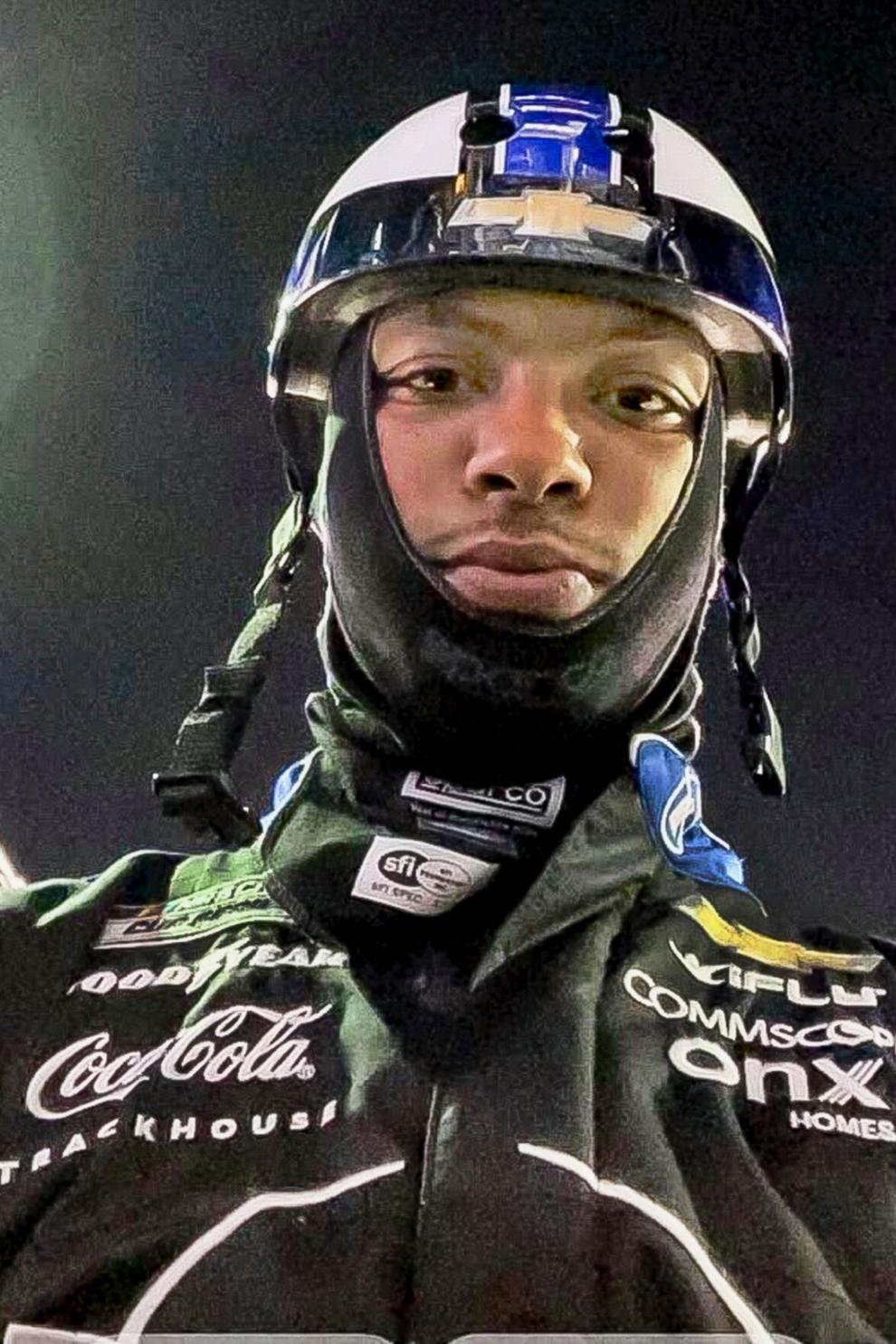 "It was disappointing," Edmonds said of his team's car being sidelined in the big crash.
"I was ready to get all of my jitters out, but unfortunately I didn't get a chance to do a pit stop."
While the race did not go as planned for the team, Edmonds enjoyed the experience of being a part of the Daytona 500.
"It was a great experience," he pointed out.
"It was fun leading up to the start of the race. The atmosphere wasn't the same as it used to be before the coronavirus pandemic, but the atmosphere was still great. I enjoyed it."
On the eve of the Daytona 500 Edmonds said he is taking things one race at a time.
"I try to not get too high, and I try to not get too low," he pointed out.
"Staying focused is the biggest thing. I don't want to make any mistakes out there. I am going to try to stay calm and treat it (the Daytona 500) as another race."
Edmonds, son of Halifax County native and 1989 Halifax County High School graduate Barnabas Edmonds and his wife, Andrea Edmonds of Brown Summit, North Carolina and nephew of Halifax County resident Sam Edmonds, is employed by Richard Childress Racing. The Burlington, North Carolina native is working with Trackhouse Racing, the NASCAR Cup Series team co-owned by Justin Marks and Grammy-Award winning singer and performer Pitbull which has an alliance with Richard Childress Racing.
Edmonds had looked forward to meeting the superstar performer and team co-owner prior to the race but the opportunity did not materialize.
"With the rules we have pertaining to the coronavirus protocols NASCAR did not allow people on the pit box, so Pitbull didn't have a chance to come down to be with us," Edmonds said.
"I think it might happen when we go to Miami, Florida in a couple of weeks. We hope so, anyway."
Edmonds had a busy weekend. Prior to Sunday's Daytona 500, Edmonds was the jackman for DGR Racing and driver David Gilliland in last Friday night's NASCAR Truck Series race and was the jackman for driver Jordan Anderson in Saturday's NASCAR Xfinity Series race. He plans to work with those teams through the 2021 season as well.
"I like working in Trucks and Xfinity," Edmonds remarked.
NASCAR pit crews work in an intricate, tightly choreographed manner, turning out full-service pit stops that include changing four tires and adding a full load of fuel in under 14 seconds.
With cars speeding past them with mere inches to spare and cars swiftly cutting into and out of pit stalks immediately in front and behind them, the tire changers and jackman are on the front line of danger.
Edmonds is undaunted by the element of danger that surrounds him as he leaps from the pit wall carrying a 50-pound jack and runs across the front of his team's car.
"I never think about the danger," Edmonds explained.
"I just take a deep breath before I jump off of the (pit) wall. I just love the adrenaline rush I get jumping in front of the car."
The jackman is one of the more important positions on a pit crew. Tire changers cannot do their jobs without the jackman simultaneously doing his job. Everyone has to be in synch to produce a fast, successful pit stop.
"Being the jackman is like being the quarterback in football," explained Edmonds.
"There is a lot on your plate, a lot on your mind."
Edmonds, who stands 6-4 and weighs 225 pounds, was a force to be reckoned with on the football field. Aggressive on the football field, Edmonds has to temper that aggression in his position as jackman for his race team.
"In football you're taught to be aggressive," explained Edmonds.
"In pitting, you've got to calm that aggression down. You can't be too aggressive because you will mess up. You have to stay calm. When I first started, I struggled with that a lot. But I got it together. I know I can't go out here and be so aggressive."
Being a member of a NASCAR race team was not something that had been in the forefront of Edmonds' interests. During his junior year in college Edmonds went with a former football teammate on a visit to Richard Childress Racing.
"He was telling me it's something I can do after college," Edmonds said of his friend.
"He told me former athletes do it. I told him I would think about it. I really didn't think anything of it. I went back to school and all I was thinking about football. Going into my senior year I was like 'I need to find something to do if I don't go to the NFL.' That (pursuing a career in auto racing) came to mind. I went after it."
Edmonds' journey to reach this point is one of almost three years.
"I was training for a year, then I went to Chip Ganassi Racing and participated in their development program," said Edmonds.
"I worked Truck Series and Xfinity Series races, did a few ARCA races and worked 10 Cup Series races. Then, I had a tryout at Richard Childress Racing this past October. I went to the tryout, and they called me later and said they wanted to sign me. They signed me in November, and I started working at RCR. I've been training and was able to get on the team for the No. 99 Daniel Suarez car."
The seed for Edmonds to consider a career in auto racing may have been planted much earlier than his college years.
"My dad's a school resource officer at Cary High School in Cary, North Carolina," Edmonds noted.
"He does tours for kids in the summer, and one of the tours was at Hendrick Motorsports. One evening my dad came home and showed me a video of their pit stops, and he was like 'maybe you can do this one day.' I really didn't think it was going to happen. It's crazy how things turned out."
Edmonds, 24, holds a double major in Applied Engineering and Motorsports Technology and says after a period of years of being on a pit crew he wants to transition to another role on a race team.
"After pitting I want to transition over to be an engineer," he said.
"I'm young, and right now I enjoy pitting more than being in the shop."